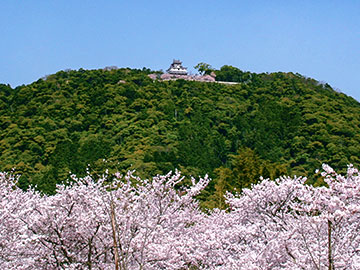 Shiroyama
300.4m above sea level. The beginning of the Edo period, Iwakuni Castle here was demolished by decree-"Ikkoku ichijo rei"*, and since then, the forests mainly composed of evergreen broad-leaved trees have not been joined by people for nearly 400 years. So it has been designated as a state-owned nature conservation forest.
*. A decree that only one castle, where Landlord resides or is a government office, is allowed in one province and all other castles must be abandoned.
Location: Yokoyama, Iwakuni
Access: 10 minutes by car from Sanyo Expressway Iwakuni IC
From JR Iwakuni Station, taking a bus bound for JR Shin-Iwakuni Station and getting off at Kintaikyo Bus Stop for about 18 minutes, then 10 minutes by walk.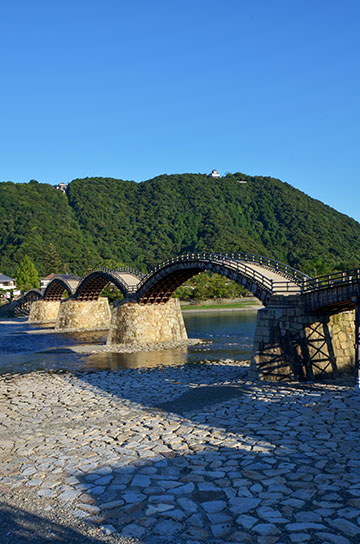 Kintai Bridge
Wooden Five arches span the 200 meter width of the Nishikigawa. Founded in 1673 by Hiroyoshi Kikkawa, former Iwakuni lord. And it has been passed through the subsequent outflow and reconstruction. It's now popular as the citizen's symbol.
Location: Iwakuni 1-chome, Iwakuni
Fee: 300 yen for adults 150 yen for children
Access: 7 minutes by car from Sanyo Expressway Iwakuni IC
20 minutes by bus from JR Iwakuni Station to Shin-Iwakuni Station, walk to Kintaikyo Bridge 5 minutes